We're a "crafty" bunch. Among us, we have over two centuries of modeling experience! At each meeting we have a short business meeting, a break with refreshments, a how2 clinic or presentation, a drawing for door prizes, and a model contest. Check out the winners in the Milepost Newsletters. We also have a large HO scale modular railroad group. Many of our members are also involved in HOn3 and N scale modular groups. We try to put on two swapmeets a year.
National Model Railroad Association

Rocky Mountain Region NMRA

More RR Links


You may also Visit us on Facebook

Want to "test drive" the NMRA for a little while?
Sign up for the NMRA 9-month Rail Pass trial membership for only $19.95! Includes 9 months of NMRA Magazine, plus all regular member benefits (except voting).


Back to Top of Page

(in pdf Format)

November 2018 October 2018 September 2018 August 2018 July 2018 June 2018 May 2018 April 2018 March 2018 February 2018 January 2018 December 2017


Back to Top of Page

--------------------- DIVISION SWAPMEET -------------------------------
---
Pikes Peak Division Swapmeet - December 8, 2018 from 9:00am - 3:00pm.
Admission is $5.00 per person with 12 and under free.
Vender tables are $15 each or buy three and get the fourth free.

At the
Trinity United Methodist Church, 701 N. 20th St., Colorado Springs, CO

(This is right across from the Uintah Gardens and King Soopers shopping center on 19th and Uintah.)

---
----------------TECO Show-------------------------------
---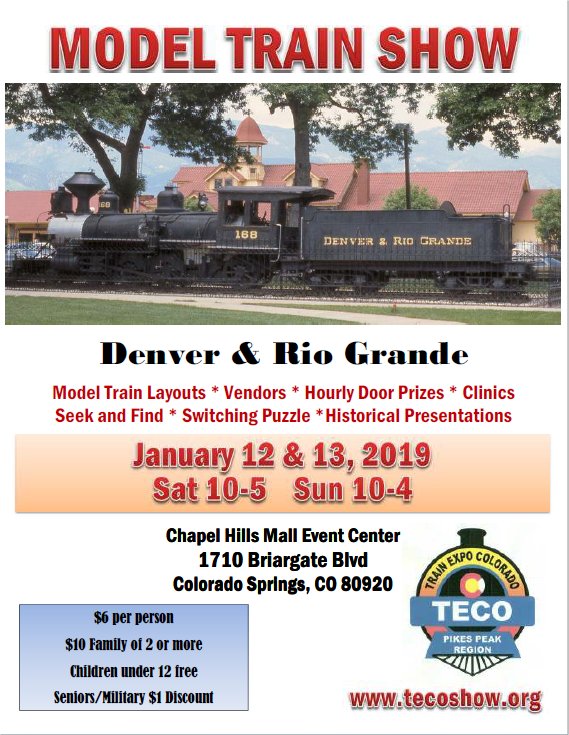 <!

>

For upcoming show dates, go to

www.tecoshow.org

For table reservations and more information, contact: 719-640-2076



Back to Top of Page





---
How We Started the Pikes Peak Division

The original story article produced in 1979 by Wally Smith. Submitted by Jerry Hansz

---
Great "Now & Then" Youtube videos of the cog train. A must see! and Now
---


A nice conversion table for HO scale modeling. Conversion Table


---

Read Articles by Jerry Hansz
2018 Contest Schedule
January - Bulk Materials Car
February - Weathered Box Car
March - Railroad Depot (freight and/or passenger)
April - Something Whimsical to bring a smile or chuckle
May - Yard Structure
June - 1 Square Foot Contest (anything that fits within 144 sq. in.)
July - Refrigerated Boxcar
August - Structure (not railroad, not commercial)
September - Self propeled Railcar (Can be scratch-built, kit-bashed, and/or modified railcar)
October - Open and Judged Contests (First Timers welcome)
November - M.O.W. Equipment
December - NO CONTEST (Christmas Party)
---
Contacts
Superintendent
Joe Costa

Asst. Superintendent
Charalee Topinka

Secretary
Rob Allen

Treasurer & Door Prize Chairman
Frank Pareso - 719 591-9470

Module Group Chairman
John Emmot - 719 380-8421

Members Aid
John Emmot - 719 380-8421

Public Relations
Kristin Phillips

Program Chair
Charalee Topinka

Monthly Contest Chairman
Open

Milepost Editor
Mike Murdock

Webmaster
Open

NMRA Achievement Program
Jack Sousa - 719 576-7017

NMRA Membership Chairman
Open

Swapmeet Chairman
Dusty Thomson

Pikes Peak Division Bylaws
---
Lots of Modeling & Railroad Links
---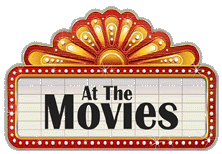 ---
Support our local hobby shops.

Roy's Model Trains, 2218 East Pikes Peak Ave, Colorado Springs, 719-728-0503
Sidetrack Hobbies, 510 Loomis Circle, Colorado Springs, 719-540-4684






Back to Top of Page




Use this link for www.jameco.com Cinch-Jones 6-pin connectors.




Pikes Peak Division Module Show Guidelines

Traditional style module setups and operations.
All members invited to run trains in DC and DCC.
Any modules that conform to the basic construction, track standards, and DCC wiring requirements.
Standards set by the Module Group Chairman.
Guest operators and trains ok.

Home Layout Tour
ChamaCam WebCam
---
Copyright PPDNMRA 2007-2018 - Updated 11-08-18 by JLE